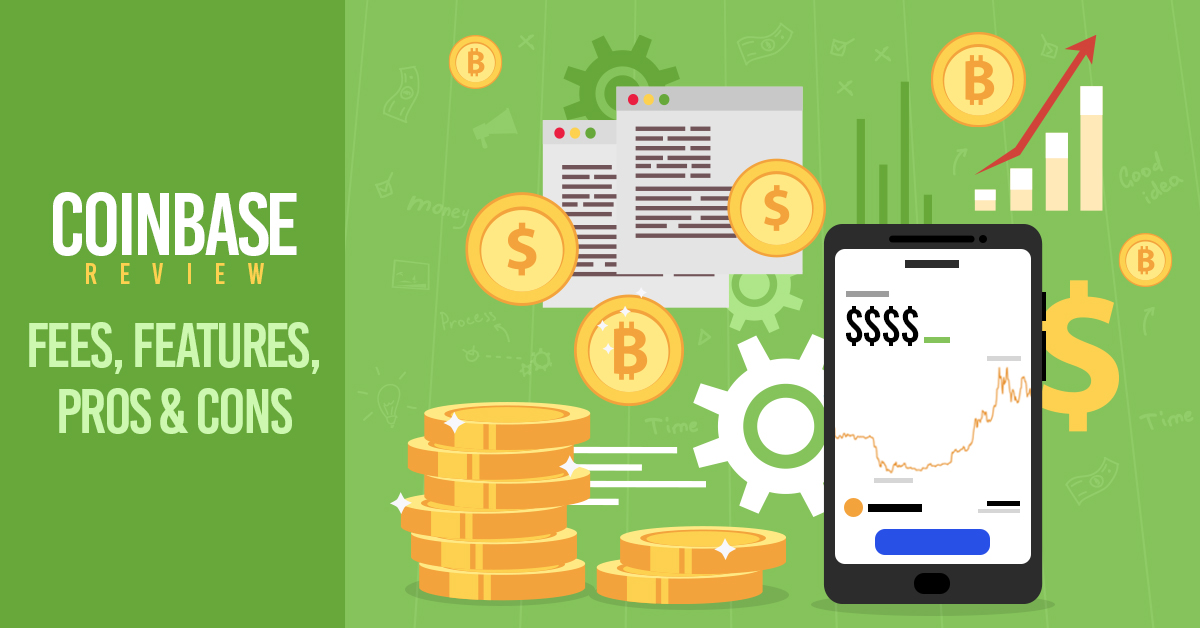 Coinbase exchange is the largest cryptocurrency company and one of the oldest exchanges around, supporting over 100 countries with more than 40 million customers around the world. It was founded in 2012 with its headquarters located in San Francisco, California.
As a Bitcoin brokerage service (selling Bitcoins directly to customers), and fully regulated and licensed cryptocurrency exchange. Coinbase has a wide array of services but its main service allows users to buy and sell Bitcoins and other cryptocurrencies such as ethereum, compound, Stellar lumens, and many more through a bank account, credit card, and debit card.
Users can purchase crypto using market orders that experience high fees compared to other exchange options out there. Coinbase exchange is very safe as they use top-of-the-line security measures and store 98% of their cryptocurrency in a cold-storage wallet.
How Open a Coinbase Exchange Account
Signing up for Coinbase exchange account is an easy pizzy process. , and requires a step-by-step method.
Enter your name, email, and the password you wish to use and verify your email address.
2. Coinbase will asks you to enter your phone number to receive a verification code which later uses this phone number to send 2-step verification codes.
3. Just like any bank account, you must prove your identity and state identification. At this point, your Coinbase exchange account has been created and you can add your bank account, credit card, or debit card details to enable deposits and withdrawals.
How Can you open a Coinbase Pro account when you already have a Coinbase account?
Already have a Coinbase exchange account? No stress, just use the same login details from your Coinbase account for your Pro account.
By doing this, your Coinbase account is automatically linked, and transferring funds of any currency between your Coinbase balance and your Coinbase Pro account is integrated.
Way of Trading on Coinbase
Trading on coinbase is quite easy even for beginners. The platform can be accessed through your android or iOS devices and it is all browser-based, which includes its more advanced trading platform, Coinbase Pro.
Coinbase users can purchase crypto using market orders that experience high fees compared to other exchange options out there.
Once logged in, you are immediately shown your portfolio balance and its performance in a selection of time frames. You will see above your portfolio balance, a "Buy crypto" button where you can enter a dollar value and place market orders for whichever crypto you choose that Coinbase has available.
On the top right of the page, is the send and receive options which allow users to send crypto out of their Coinbase wallets or receive crypto from elsewhere into their Coinbase wallets. But unlike most crypto-first exchanges who offer the ability for users to withdraw to their private wallets, this is unfortunately not the case for some other brokers and exchanges out there.
What Cryptocurrencies are traded on Coinbase?
Currencies accepted by coinbase physical checks as a payment method to purchase cryptocurrency or to deposit funds into a user's fiat wallet (Fiat money is government-issued currency that is not backed by a physical commodity, such as gold or silver, but rather by the government that issued it). So it supports the following coins:
Basic Attention Token (BAT)
Bitcoin Cash (BCH)
Bancor Network Token (BNT)
Compound (COMP)
Civic (CVC)
Dai (DAI)
Dash (DASH)
Aave (AAVE)
Algorand (ALGO)
Cosmos (ATOM)
EThe Balancer (BAL)
Band Protocol (BAND)
districtOx (DNT)
EOS (EOS)
Ethereum Classic (ETC)
Ethereum (ETH)
Filecoin (FIL)
Bitcoin Satoshi's Vision (BSV) (Send Only)
Bitcoin (BTC)
Celo (CGLD)
The Graph (GRT)
Golem (GNT)
Kyber Network (KNC)
Chainlink (LINK)
Loom Network (LOOM)
Loopring (LRC)
Tezos (XTZ)
Yearn.finance (YFI)
Zcash (ZEC)
0x (ZRX)
OMG Network (OMG)
Orchid (OXT)
Ren (REN)
Augur (REP)
Synthetix (SNX)
USD Coin (USDC)
Universal Market Access (UMA)
Litecoin (LTC)
Decentraland (MANA)
Maker (MKR)
Numeraire (NMR)
NuCypher (NU
Uniswap (UNI)
Wrapped Bitcoin (WBTC)
Stellar Lumens (XLM)
Ripples (XRP)
Coinbase Payment Methods
Coinbase users can purchase crypto using market orders that experience high fees compared to other exchange options out there. Coinbase fees vary across different countries and regions, there are several types of payment methods, and specific payment methods for different countries that you can link to your Coinbase account:
This is a list of the general payment method.
Wire transfer (including ACH in the US and SEPA in the EU)
Credit cards (new cards aren't currently accepted)
Debit cards Cryptocurrency deposit and withdrawal
PayPal (withdrawal only).
Deposit & Withdrawal Methods:
The following are the various deposit and withdrawal methods for coinbase cryptocurrencies:
Bank Account (ACH)- This deposit/withdrawal method is best for large and small amounts and takes between 4-5 business days.
Wire Transfer-This deposit/withdrawal method is best for large amounts and takes 1-3 business days.
Cryptocurrencies- Traders can buy/sell, and deposit/withdraws Bitcoin, Bitcoin Cash, Ethereum, and Litecoin with Coinbase.
Sell Methods:
Users can sell their cryptocurrency and have the money go directly into their PayPal account. This is an additional method for receiving sold funds from cryptocurrency.
Buy Methods:
A method for buying cryptocurrencies without depositing funds into your Coinbase account is to purchase the cryptocurrency directly with your debit/credit card.
How to connect a payment method
Open the Coinbase Wallet app on your mobile device
Tap your settings at the bottom
Scroll down to tap Transfer coins from Coinbase
Select Buy crypto
Select the coin you'd like to purchase and enter the amount
Here are specific payment methods for US and European customers. However, you can always access payment methods for other countries.
Payment methods for US customers
| | | | | | | |
| --- | --- | --- | --- | --- | --- | --- |
| | Best for | Buy | Sell | Deposit | Withdraw | Speed |
| Bank Account (ACH) | Large and small investments | ✔ | ✔ | ✔ | ✔ | 4-5 business days |
| Debit Card | Small investments and withdrawals | ✔ | ✘ | ✘ | ✔ | Instant |
| Wire Transfer | Large investments | ✘ | ✘ | ✔ | ✔ | 1-3 business days |
| PayPal | Small investments and withdrawals | ✔ | ✘ | ✔ | ✔ | Instant |
Coinbase supports the following payment methods for European customers.
| | | | | | | |
| --- | --- | --- | --- | --- | --- | --- |
| | Best For | Buy | Sell | Deposit | Withdraw | Speed |
| SEPA Transfer | Large amounts, EUR deposits, Withdrawing | ✘ | ✘ | ✔ | ✔ | 1-3 business days |
| 3D Secure Card | Instant crypto purchases | ✔ | ✘ | ✘ | ✘ | Instant |
| Instant Card Withdrawals | Withdrawals | ✘ | ✘ | ✘ | ✔ | Instant |
| Ideal/Sofort | EUR deposits, buy crypto | ✘ | ✘ | ✔ | ✘ | 3-5 business days |
| PayPal | Withdrawals | ✘ | ✘ | ✘ | ✔ | Instant |
Coinbase Fees and Charges
Coinbase does not request any form of charges or fees for depositing funds into your account, however, your financial institution will. Moreover, charges/fees are requested upon the purchase of cryptocurrencies. These fees vary from country to country but are most commonly 3.99% for Debit/Credit Cards and 1.49% for Bank Transfers.
In addition to these fees, traders will also have to pay virtual currency transfer fees which include the network transaction fees and minor fees. Also, users are subjected to an exchange rate fee. The fees are usually displayed as users make their transactions.
But the cost of trading on Coinbase's standard platform is quite high when compared to its competitors.
Supported Countries of Coinbase Exchange Cryptocurrencies
Coinbase accepts users and traders from different countries around the world. They currently support traders from over 30 countries. These include:
Austria
Belgium
Bulgaria
Croatia
Cyprus
The Czech Republic
Denmark
Finland
Greece
Hungary
Ireland
Italy
Latvia
Liechtenstein
Malta
Monaco
The Netherlands
Norway
Poland
Portugal
San Marino
Slovakia
Slovenia
Spain
Sweden
Switzerland
Security
Coinbase stores 98% of its users' cryptocurrency funds offline in a cold-storage wallet to ensure security from theft and loss. They provide a solid amount of security in comparison to several other leading exchanges. So, coinbase is a great offering for those looking to safely get started in cryptocurrency.
Users can also make their accounts even more secure with two-factor authentication, email verification, and other security measures like 2-step verification and biometric fingerprint logins.
It is also important to understand that any crypto on any exchange account is as secure as the account holder makes them. It is important to a very strong password and to utilize the available security features like 2-step verification.
Coinbase website traffic runs over fully encrypted SSl (https), and users' wallets are stored using AES-256 encryption. Hence, Coinbase is very secured.
Pros and Cons
Pros
Safe & Secure cryptocurrency exchange
Extremely simple user interface
Impressive limits and liquidity
Accepted in over 30 countries
A solid variety of altcoin choices
Cons
Not a large enough variety of altcoins for altcoin traders
Fees may be higher than some other exchanges
Limited cryptocurrency assets available
High fees when not using Coinbase
Users do not control their wallet keys
Coinbase Exchange Privacy
Coinbase Privacy
Coinbase requires several personal information from its users to ease verification. They are a regulated financial services company within the United States. Users cannot be anonymous, therefore, users are required to send in their banking information as well as identity verification with a government issue ID such as a driver's license or passport.
However,coinbase securely stores and protects users' and traders' information.
Coinbase Exchange Customer Support
Coinbase support page is very informative and organized. It features a good and extensive customer support page with helpful articles and FAQ pages for users and traders to refer to if they have any questions or problems.
Users can also open support tickets that are answered as fast as possible. Although their response time could be quite delayed at times, however, they are quite helpful.
Conclusion
In conclusion, buying and selling cryptocurrencies is extremely helpful and legit, but also very risky and technologically advanced. However, this exchange is probably a secure, safe, and easiest cryptocurrency exchange for buying and selling Bitcoin and some other popular cryptocurrencies.
Coinbase stands out in providing its users with a simple and easy method for buy and selling cryptocurrencies.
However, there can't be too much information to read up.
That's why as a newbie, signing in for a crypto course or mentorship is a must.
References
G2 reviews
Coinbase Help