When it comes to trading cryptocurrencies, Bybit is the place to consider because it provides a full range of cutting-edge trading tools. Although it promises no downtime and top-notch security, it is not available in the United States. If you're planning on becoming a bybit trader, make sure you read the rest of this review.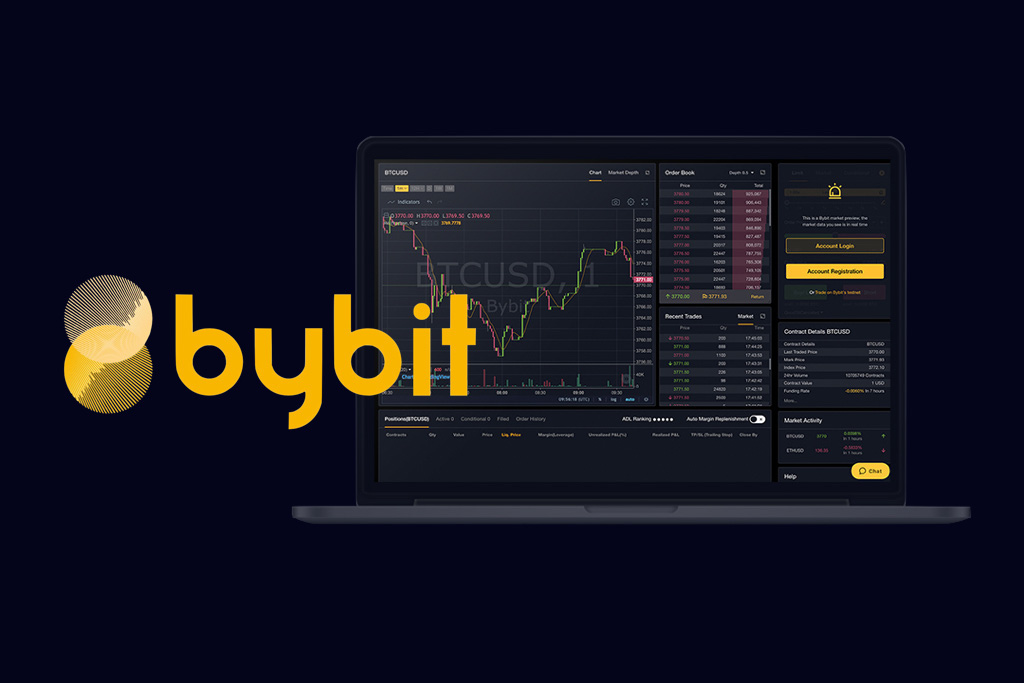 What is Bybit Exchange?
Bybit is a cryptocurrency trading platform that specializes in margin trading with up to 100x leverage on BTC/USD and ETH/USD trading pairings.
Bybit was launched in March 2018 in Singapore and is made up of specialists from investment banks, technology companies, the forex sector, and early blockchain users. It is a British Virgin Islands-registered trading exchange with approximately 2 million customers.
What Types of Services Does Bybit Provide?
Bybit's concentration on advanced crypto trading results in a plethora of features that contribute to the platform's attractiveness. I'll go into detail about the services supplied by Bybit in this section.
Spot trading and Derivatives trading:
Bybit is one of the largest cryptocurrency derivatives exchanges in the world, with over 2 million users. This results in a high level of liquidity, with 24-hour volume frequently topping $10 billion. Bybit offers the following derivatives:
BTC/USD, ETH/USD, EOS/USD, and XRP/USD are all examples of inverse perpetual contracts in which the coin is used as collateral.
USDT Perpetual contracts include BTC/USDT, ETH/USDT, BNB/USDT, ADA/USDT, and XRP/USDT, among others.
BTC/USD and ETH/USD inverse futures contracts with a maximum duration of six months, where the coin is used as collateral.
To supplement its primary derivatives product, Bybit just announced spot trading in July 2021. It began with only four trading pairs: BTC/USDT, ETH/USDT, XRP/USDT, and EOS/USDT, but quickly expanded to over 70.
Margin trading with up to 100x leverage:
Margin trading with up to 100x leverage is quite popular among experienced traders looking to increase their returns on successful deals. This enables the trader to leverage their trading, resulting in a bigger return on a small investment. While some cryptocurrency exchanges only allow for up to 5x leverage, Bybit allows for up to 100x leverage, which is sufficient for practically all traders.
Naturally, users must be aware of the risks, and the primary drawback is that the trader may lose more than their initial investment, even with a minor decline in the market price. Margin trading should be undertaken only by individuals with a firm grasp of technical analysis and is most emphatically not suggested for beginners.
Testnet platform to practice trading:
Bybit provides a Testnet, which is a stripped-down version of the main website. It enables users to practice trading without having to deposit real money or cryptocurrency. Rather than that, you conduct your trades using demo Bitcoin to familiarize yourself with the exchange before using your real money.
Mobile app for iOS and Android:
Bybit's mobile app is available on the Apple App Store for iOS and the Google Play Store for Android. The app is rated 4.9 stars on Google Play, with over 1 million downloads.
The app is simple to navigate and quite responsive, and it looks to provide all of the trading tools, charts, and conditional orders available on the desktop website. The app is indispensable for any trader who is constantly on the move.
Take Profit / Stop-Loss orders supported:
Traders on the Bybit exchange do not have to worry about overloads, as the exchange uses an ultra-fast matching engine that supports up to 100 000 deals per second. Bybit also enables high-frequency trading (HFT) due to their platform's lightning-fast market updates, which occur every 20 milliseconds. Traders may always rely on Bybit's system functionality of 99.99 percent.
Bybit Fees
Deposit Fees
When you deposit cryptocurrency into your Bybit account, there are no transaction fees.
Bybit does not charge a fee for depositing fiat currency; nevertheless, the service provider of the fiat gateway may charge a fee. You will need to check the fees charged with each supplier on their website.
Withdrawal Fee
Bybit charges the following withdrawal fees:
| | | |
| --- | --- | --- |
| Asset | Minimum Withdrawal Amount | Bybit Withdrawal Fee |
| BTC | 0.001 BTC | 0.0005 BTC |
| ETH | 0.02 ETH | 0.01 ETH |
| EOS | 0.2 EOS | 0.1 EOS |
| XRP | 20 XRP | 0.25 XRP |
| USDT | 10 USDT | 10 USDT |
Bybit Trading Fees
Market makers and market takers pay varying costs, which vary according to whether they are trading derivatives or spot.
Derivatives Trading: Market makers earn a rebate (negative charge) of 0.025 percent for executing the trade. Market participants are charged a fee of 0.075 percent.
Spot Trading: Market makers are not charged a fee, whereas market takers pay a 0.1 percent commission.
Bybit Exchange: Pros and Cons
Pros
Trading in derivatives and spot commodities is available.
Margin trading with a leverage of up to 100x
iOS and Android mobile applications
Fiat-based payment gateway for easy deposits
Cons
It supports only cryptocurrency withdrawals; no fiat withdrawals.
It is not available to  United States
Bybit Security
The CEO has stated on record that the majority of bitcoin exchanges are doomed to fall victim to hackers due to their centralized nature. So, how is Bybit different from the competition in terms of cybersecurity?
Yes, and it takes cybersecurity a step further than the average cryptocurrency trading platform. Consider what the company does to safeguard your investments.
Multi-Signature Cold Wallet Storage
Bybit has built a hardware wallet technology that enables it to collectively store its customers' assets in cold storage, so protecting them from malevolent threat actors.
Unlike other exchanges that employ hot wallets (online-accessible crypto wallets), Bybit assigns traders cold deposit addresses. With offline signatures, it completes asset consolidation and withdrawals.
In other words, withdrawal requests made through the Bybit platform are manually reviewed three times daily. Although you will not immediately receive your funds, this rigorous process helps keep hackers at bay. Additionally, you can still make one withdrawal every eight hours from your account.
Zero-Trust Architecture
Bybit has a zero-trust architecture and manages software lifecycles through an internal system.
Penetration testing will be conducted by renowned cybersecurity consultants. Additionally, it adheres to job separation and collaborates with a renowned third-party security auditor.
Each Bybit employee must undergo stringent background checks, as well as rigorous security training and assessment, in order to avoid insider attacks.
Collaboration With White Hat Hackers
Bybit collaborates with white hat hackers to find cybersecurity vulnerabilities early on. Through its bounty programs, the business compensates individuals who find loopholes.
Two-Factor Authentication
Bybit offers two-factor authentication for increased account security.
To register on the platform, log into your account, or use Bybit to purchase crypto assets for trading, you must pass a single authentication level. However, if necessary, the system will require you to configure a combination of email or SMS authentication and Google Authentication:
Reset your password
Modify your security preferences
Take your money out
Additionally, Google Authentication is required for API management verification.
Additional Authentication Layers
Additionally, the Bybit mobile application includes unique security features. You can enhance security by enabling pattern lock and fingerprint recognition.
However, keep in mind that Bybit may share your information with third parties for legal and promotional purposes.
Final Thoughts
Bybit is an interesting crypto derivatives exchange. You may have heard a lot of hype about it, as many content providers gravitate toward its rich affiliate program. But don't worry; it's not all hype.
Bybit many have certain limitations, and its limited fiat-to-crypto conversion capacity is a perfect example. But it also has many wonderful things going for it, such its multi-signature cold wallet storage. You'll be able to trade with leverage and manage your holdings with its user-friendly interface.
It has tons of room to develop, though. And it may start by creating a tough KYC criteria to accept Bybit USA merchants. More crucially, having a strong ID verification mechanism in place might boost its validity in regulators' eyes.
But if you find the whole FCA issue and the fact that it distributes your data off-putting, you'd be better off checking out other similar services.
Reference:
Related Posts: