What is BitMex?
BitMEX is a peer-to-peer cryptocurrency derivatives trading platform that specializes in leveraged contracts. It is one of the world's largest and most extensively utilized margin trading platforms.
Users can purchase and sell contracts for cryptocurrencies (not the real coins), as well as leverage up to 100 times. This means that deposits and withdrawals are only possible in bitcoin. It's an excellent platform for cryptocurrency digital traders aiming to grow their Bitcoin holdings through market trading.
BitMex Contracts
Bitmex offers contracts on a diverse range of cryptocurrencies, including the following:
Bitcoin, Dash, Ethereum, Ethereum Classic, Litecoin, Qtum, Monero, Ripple, Tezos, and Zcash are all examples of cryptocurrencies.
Bitmex constantly updates and modifies the contracts offered, so if a trader is interested in a particular cryptocurrency, it makes sense to check the current contracts provided.
While Bitmex allows for the trading of cryptocurrency/fiat currency pairs, the exchange's base currency is Bitcoin, and the exchange does not accept fiat currency deposits or withdrawals. Profits and losses on transactions are always denominated in Bitcoin, regardless of which fiat or cryptocurrency is used to create the pair.
Leveraged margin trading is a significant feature of Bitmex, with Bitcoin contracts offering leverage of up to x100. Ethereum contracts have leverage of up to x50, while Monero contracts have a leverage of x25. Additionally, futures and perpetual contracts are available. Because Bitmex is a peer-to-peer exchange, contracts are always matched against other traders on the site or market makers. The trading platform is comparable to those used by hedge funds and large investors.
Due to the fact that account holders trade relatively anonymously on Bitmex, and despite the fact that high leverage is available, the trader must constantly have sufficient funds in their account to cover their overall exposure. When the account's value falls below the required maintenance margin for a deal, it is liquidated to ensure that the account never ends up in debt at the conclusion of a trade.
BitMEX does not presently have a mobile application.
BitMex Exchange: Fees and Charges
Because Bitmex exclusively accepts Bitcoin as a base currency, there are no costs associated with either depositing into or withdrawing from a Bitmex account.
Trading fees are modest but vary according to the crypto or fiat currencies involved and the form of the contract, e.g. futures, perpetual contracts, etc. Due to the fact that Bitmex is a peer-to-peer platform, fees are divided into a 'taker fee,' a'maker fee,' and a'settlement charge.'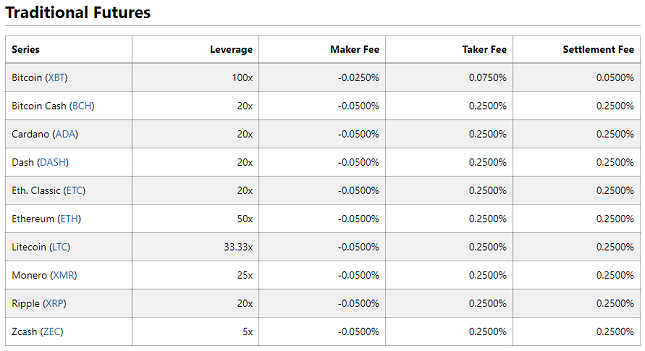 How to create an account with BitMex
Signing up with BitMEX is a simple process that takes only a few minutes from start to end. Users are not required to complete a time-consuming Know Your Customer (KYC) process, snap selfies, or scan their identification documents.
All you need is a valid email address to deposit Bitcoin and immediately begin trading!To register for a BitMEX account, follow these steps:
Visit the Bitmex website and click on 'Register' in the top right corner.
Complete your email address, password, and country of residence fields and then click the Register button.
You will be prompted to validate your email address. Verify your email address by clicking the 'Verify My Email' link. This concludes the registration procedure. That is all! You have now successfully opened an account on the BitMEX exchange.
Bitmex Exchange: Privacy and Security
BitMEX security is highly strict, and the exchange takes pleasure in the fact that it has never been hacked. The exchange's security measures are classified into four categories:
Wallets: All BitMEX wallet addresses are multisignature, which means that even in the event of a severe hack that compromises the servers, trading engine, and database, the attacker will be unable to get the keys required to steal funds. Additionally, all withdrawals are carefully verified by employees, and no private wallet keys are stored on potentially susceptible cloud servers.
Additionally, System Security, Trading Engine Security, and Communications Security are all based on advanced technology and various defense levels. Complete security information is available on the BitMEX website.
BitMEX maintains a high level of privacy due to the fact that it does not deal in fiat currencies and hence is not subject to international money laundering legislation. Personal identification is not required to open a trading account, and account holders are not restricted geographically.
Customer Service
Customer support is available via email ticket, as well as a wealth of information available on the trading platform and company website. While user reviews indicate that a telephone line would be beneficial for more pressing issues, response times to inquiries appear to be adequate.
Additionally, there is a chat feature that enables traders to communicate with one another, which means that the BitMEX trader community is capable of resolving the majority of queries or issues internally without involving support staff.
BitMex Exchange: Pros and Cons
Pros
High Levels of Security
Trading on a margin of up to x100
Futures and other derivatives are available.
There is little red tape and no identification documents is required.
A wide variety of cryptocurrency and fiat currency pairs are available for trading.
Costs for trading are low, and there are no fees for deposits or withdrawals.
Cons
Bitcoin is the sole currency accepted for deposits and withdrawals.
Not recommended for beginners.
BitMex Exchange: Supported Countries
Apart from the United States, customers can register and begin trading on BitMEX. This is due to restrictions in the United States, which are mainly outside BitMEX's control. According to reports, US customers can circumvent this restriction by using a private VPN. We must emphasize that this is against BitMEX policy and we do not recommend it. We propose that you use another cryptocurrency exchange in the United States of America.
Is BitMex Safe?
BitMEX utilizes bank-level security procedures to assure the highest level of security for customer assets stored on the trading platform. Numerous layers of protection have been established, including multi-signature withdrawals and Two Factor Authentication (2FA). This means that customers must give various verification measures, including a password and a unique mobile device number, in order to properly log in, confirm withdrawals, and modify account information.
Conclusion
BitMEX is the obvious alternative for experienced traders searching for a futures and derivatives exchange-style platform for cryptocurrency markets. This is the closest cryptocurrency markets now come to a pro-trading climate, and many will also appreciate the lack of red tape. The fact that the entire exchange is based on Bitcoin as the basic currency has a number of benefits and drawbacks, but the benefits outweigh the drawbacks for traders on this exchange – minimal costs, a diverse range of products and trading formats, and anonymity.
Reference
Related Posts