Everyone always wants to get their hands on some free money. Well, dogecoin faucets have made it easy for everyone and anyone to earn some dogecoins without stress. They have also boosted the Dogecoin profile by increasing the number of dogecoin users/holders. 
This Dogecoin Faucet review will explore everything you need to know about dogecoin Faucets and the best Dogecoin faucets in 2022. Additionally, we have carefully compiled a Dogecoin faucet list. Keep reading to find the most productive ones. Let's dive right in.
What Is a Dogecoin Faucet?
A dogecoin faucet is simply a website/App that rewards DOGE coins for completing simple tasks. The idea is to increase the number of dogecoin users. These websites or Apps allow you to claim a small amount of Dogecoin every few minutes or hours, which can then be exchanged for other cryptocurrencies or used as payment on websites that accept it.
The best part about dogecoin faucets is that they are incredibly beginner-friendly—you don't need to download anything and only require a valid email address to get you registered. They can also be significant first steps into the world of cryptocurrency if you've never had any experience before!
Dogecoin Faucet List: Best Dogecoin faucets ranked
#1. FireFaucet
Fire faucet is a site where you can earn doge coins by performing multiple simple tasks such as answering surveys, offering walls, watching videos, testing apps, referring others, and more!
This Dogecoin faucet allows you to earn DOGE without waiting at intervals. There are many ways to earn on DOGE on FireFaucet, as well as bonuses and levels that increase your earning potential.
With Dogecoin Faucet, you can earn Dogecoins and even other cryptocurrencies, and this faucet gives you a 20% commission for life on referrals as long as those you referred keep earning.
Payments are sent directly to your private wallet on demand when the threshold is reached. This Dogecoin Faucet supports nine popular cryptocurrencies.
Visit Site here: Firefaucet.win
#2. Dogecoin Faucet
This faucet lets you earn doge coins in a simple and less tasking way, unlike the other type of dogecoin faucets out there.
You can earn simple tasks such as offer walls, filling in surveys, testing out apps, etc.
Once you have earned enough dogecoins, you can withdraw them directly into your wallet. You can earn up to 0.01238059 DOGE every 6 mins.
Visit Site here: Dogecoinfaucet.com
#3 Cointiply
Cointiply is a site where you can earn free dogecoin rewards for completing tasks such as participating in surveys, watching videos, completing offers, and playing games. Some of these games may require you to make purchases to complete them, but they are entirely optional.
This allows every user to earn up to $30 on Cointiply.
It also has a referral program where you can earn up to 25% of dogecoins earned by users you referred to Cointiply. Cointiply allows you to also earn 10% of their offer earnings and 25% of faucet earnings.
How much you can earn depends on some factors like your location, the amount of time and effort put into completing tasks, and the number of tasks available.
You can withdraw your Coins to your DOGE wallet after you have reached the threshold, as the most active users can reach this threshold in a few days.
For easier means to earn on cointiply, you can download the official Cointiply Android app in the Google Play Store. For those users who use IOS, Cointiply does not currently have an iOS app due to Apple store restrictions. You can still earn free Dogecoin on iOS by using Cointiply's mobile-friendly website.
Visit Site here: Cointiply.com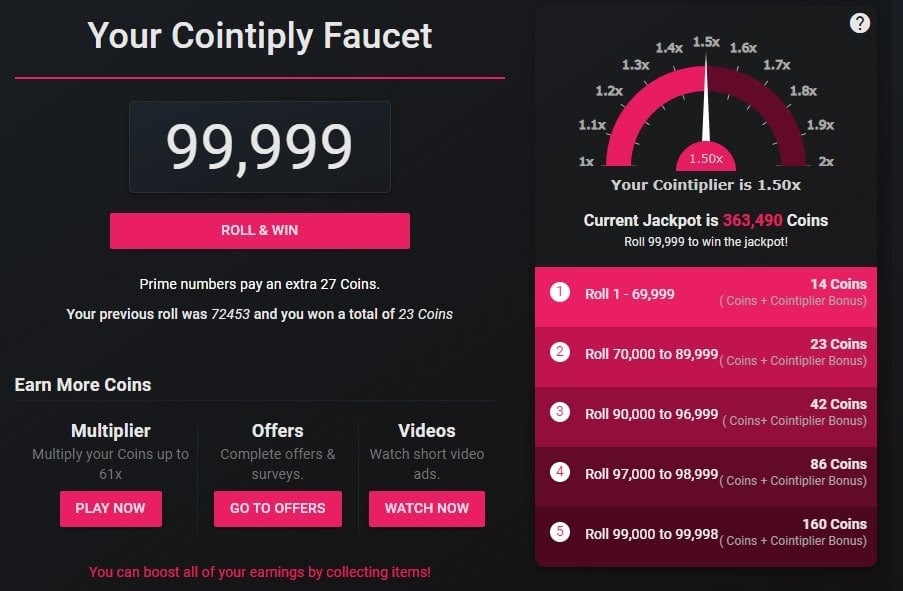 #4. AllCoins.pw
Allcoins is a popular dogecoin faucet. It's a site where other cryptocurrencies can be mined too. About 13 different cryptocurrencies can be earned on Allcoins, including popular ones like Bitcoin, Ethereum, and Doge.
Allcoins pays low and also have a meager withdrawal fee. But the bright side of Allcoins is that you can withdraw every day. Payment is automatic and can be claimed every 6 mins just by clicking a "claim" button.
Additionally, you can share your referral links with friends and invite them to get rewarded, as this faucet offers a whopping 50% commission on your referrals earnings. Moreover, you can use this faucet to mine Dogecoin if you want to earn even more.
If you want to earn free coins with a fun twist, all you have to do is download the Command Miner on your computer system, let it run in the background while you do other things, and Dogecoin will be earned on autopilot!
As simple as that!
Visit Site here: AllCoins.pw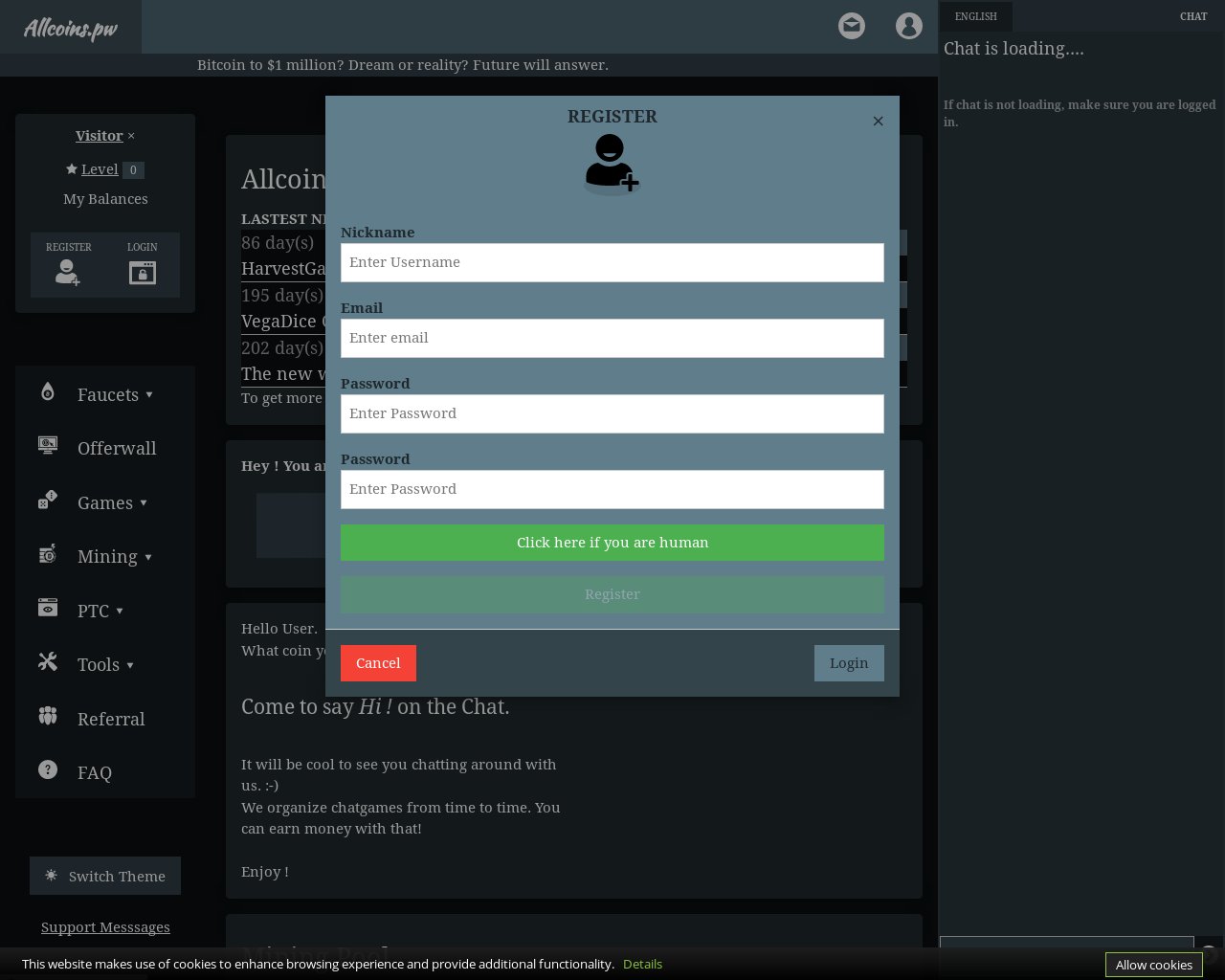 #4. CryptoKnights
CryptoKnights is a Dogecoin faucet that offers its users many ways to get free Dogecoins every hour, every day. By performing simple actions such as checking the news or playing games, you can earn an unlimited amount of Dogecoins.
It has received a lot of positive press coverage from multiple sources giving credit to this amazing faucet and the ease with which one can earn free Dogecoin.
Visit Site here: Cryptoknights.xyz
#5. Faucetcrypto
Faucetcrypto is a multi-cryptocurrency faucet that gives out other assets as well as Dogecoin. This means it gives out tokens for other cryptocurrencies.
There are several ways to earn more Dogecoin on this site. You can claim free crypto every 40 minutes just by pressing the button marked Claim (which is the "easiest way," by the way). To increase your dogecoin earnings, you can participate in surveys, offerwalls, and watch ads.
Here on Faucetcrypto, you can choose to make money in a few different ways. You can earn Dogecoin by completing tasks and claiming coins every twenty minutes. Each claim resets the timer for your next Dogecoin claim, so you can make money as often as every twenty minutes.
If you get enough Dogecoin, you can make a request, and your crypto will be sent directly to your wallet. That's just one way to earn more passively.
In addition to the frequent payouts of free Dogecoin, Faucetcrypto offers a 25% commission when you refer friends to their faucet website, so invite others to join and start earning free Dogecoin as soon as possible!
There are over a million users currently registered on Faucetcrypto, and you are not an exception. Get registered on Facuetcrypto today. And as if that weren't enough,
Faucetcrypto also has many games where you can earn more free Dogecoin just by playing! The best part? You have nothing to lose when playing these games because they're all free, with no in-game purchases necessary. 
Visit Site here: Faucetcrypto.com
#6. ESFaucet
ESFaucet is our final faucet recommendation, and this is another amazing Dogecoin faucet.
The team behind the ESFaucet is committed to filling everyone's pockets with cryptocurrency. That's why it's really easy to earn free Dogecoin with this faucet. With this amazing faucet, you can earn dogecoins every 5 minutes.
The amount you earn depletes over time, but there are ways to earn more Dogecoin on ESFaucet. You can collect ES coins that you can redeem for Dogecoin or any other supported cryptocurrency.
There are daily bonuses you can win and a 20% referral commission. And if you get the free app for Android, you can claim dogecoins on the go!
Conclusion
There are a lot of dogecoins faucets out there on the internet; it's up to you to find a genuine faucet site and earn free doge coins, as there are also malicious and scammy ones out there too. So you should be cautious when dealing with these sites.
Also, it's important to note that the more time and effort put into completing the tasks, the higher your chances of earning reasonable amounts of dogecoins. With that said, let's go earn some doge coins!
Read Also
Top 5 best free ethereum faucets in 2022 updated
How to buy Dogecoin with Paypal